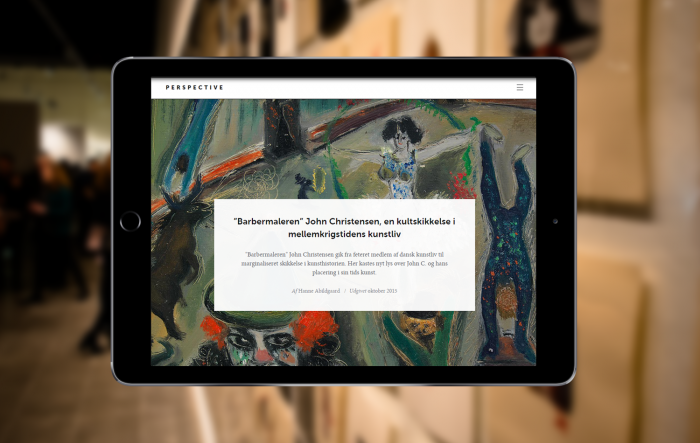 MANUSCRIPT SUBMISSION GUIDELINES
Please submit your manuscript via email by attaching your word document and sending it to this address: perspective@smk.dk
LAYOUT
Use wide margins at both sides (3 cm).
Add page numbers.
Use the header/footer function and provide the following information: title – author – version/date.
Set the line spacing at 1.5 lines, aligned left.
Use a standard font, such as Calibri, Cambria or Times (12 point).
Separate paragraphs within the text by by indenting the first line by means of tabs/indent markers – not by using the space key. We suggest setting the tab/indent at 1 cm throughout the document.
All emphasis inside the main text should be made using italics. Do not use upper-case letters (capitals), bold or underlining.
LANGUAGE AND ORTHOGRAPHY
The manuscript must be submitted in Danish or English. It will be translated so that your article will be published in both languages.
Please use standard English orthography (in accordance with for instance the latest edition of The Concise Oxford Dictionary or Webster's Unabridged Dictionary).
YOUR MANUSCRIPT SHOULD INCLUDE
Heading.
Subheading (for clarification; if applicable).
Summary (app. 100 words).
Body text and subheadings. Your text should be between 5,000 to 7,500 words long.
End notes including any bibliographic notes that state if for example the text is a reworked version of a catalogue text or based on a dissertation etc.
Byline/About the author: Name, position, place of work (including link if you wish), and email address. Include a brief biography (app. 70 words) outlining relevant academic/research-related activities. You may include a link to a website featuring a regularly updated CV for you. Also include a portrait photo in the format jpeg, png or PSD.
HEADLINES
Apart from the headline used for the title of your article, your manuscript should contain only one type of subheading.
Use brief and frequent subheadings that stimulate reading and promote comprehension.
Subheadings are aligned left. Do not use full stops after headings.
QUOTATIONS
All quotes must be reproduced exactly as they appear in the source. Maintain the original orthography, including obsolete spellings, punctuation etc.
Indicate the source of your quotation in an end note.
Place double quotation marks at the start and end of a quotation: "abc". Use single quotation marks for quotations within quotations: 'abc'.
Omissions before, in or after the quotation are indicated by hard brackets: […], as are any comments inserted inside the quotation.
Quotations of less than three lines normally run on in the text. Quotations of more than three lines should be set off from the text by double spacing and indentation; in this case quotation marks are omitted. After the quotation the body text continues as a new paragraph.
TITLES OF WORKS, DATES, ETC.
Titles of books, works of art etc. are italicised.
Dates are given as dd.month.yyyy (21 June 1947).
To prevent misunderstandings, include the full year.
Avoid expressions that may prompt confusion, such as "last year", "previous century" etc.
Periods within a single century are written as follows: 1880­–1890, and periods that cover more than one century are written as follows: 1880­–1910.
NAMES
Write all names in full when it first appears in the text, e.g. Joseph Mallord William Turner. On subsequent appearances the name can be abbreviated: J.M.W. Turner (without spacing), or you may simply use the artist's last name.
TRANSLATION
If you include quotations translated by you (from/into any language), state this in the note: My translation. If you have carried out most translations in the manuscript, included this statement in the note for the first translation: My translations unless stated otherwise.
NOTES AND REFERENCES
All notes are end notes; use Arabic numerals. The notes may offer additional detail on the text or provide references only. Sources are listed in the notes.
Provide a full reference to your source/literature for the first appearance of that source. For any subsequent references to the same source, state the author's last name, the year of publication and page number. Avoid op.cit. and ibid. Also avoid f. and ff. if possible; provide exact page numbers instead: pp. 327–375.
If a source has four or more authors or editors, include only the first name followed by: et al.
Books (author, title, publisher/place of publication year of publication): Henrik Bramsen: Dansk Kunst fra Rokoko til vore dage, Copenhagen 1942.
Articles in journals (author, title, name of journal, number, year, page number): Henrik Bramsen: "Med Eckersberg til karneval", Kunstmuseets Årsskrift, LXIV-LXVII, 1977–80, pp. 32–36.
Articles in anthologies, exhibition catalogues etc. (author, title of their contribution, editor, publication title, publisher/place of publication year of publication, page number): Jesper Svenningsen: "Georg Zoëga as Art Critic", in Karen Ascani et al. (ed.): The Forgotten Scholar: Georg Zoëga (1755–1809), At the Dawn of Egyptology and Coptic Studies, part of the series Culture and the History of the Ancient Near East, Brill Academic Publishers Incorporated 2015, pp. 67–76.
Digital/online material (author, title, type of material [accessed dd.mm.yyyy] URL): Merete Sanderhoff: "Social impact of digitising museums", Slideshare, [Accessed 3 October 2018:] https://www.slideshare.net/MereteSanderhoff/social-impact-of-digitising-museumsteema18
Works of art (artist: title (title in other language if applicable), date, medium, dimensions, collection/owner, city, inventory number): Vilhelm Hammershøi: Portrait of a young woman. The artist's sister Anna Hammershøi, 1885. Oil on canvas, 112 x 91,5 cm, The Hirschsprung Collection, Copenhagen, inv.no. 144.
ILLUSTRATIONS
Contributors supply the image files for their article.
References to the illustrations must be numbered consecutively within the entire manuscript in square brackets, with no space between fig. and the figure number itself: [fig.x]
All illustrations must be listed by their figure number in a separate document attached along with your main manuscript. The list must provide basic information that identifies the illustration. You may add a brief explanatory caption (30 words maximum).
List the relevant copyright owner, photographer etc. (if applicable) on your list of illustrations.
Image files should be submitted via email; attach your image files as jpeg, png or PSD files. For large files, contact the editors to agree uploads. Make sure that all image files have fig.nos and are named for easy identification – for example by naming them after the title of the artwork.
PHOTO RIGHTS AND ARTIST COPYRIGHT
Unless released under Creative Commons licences, all works of art are protected by copyright as long as the artist is alive and until 70 years have elapsed after the year of his/her death. This means that permission is required when reproducing images of copyrighted art.
In order to minimise the costs associated with the use of images we urge all authors to use illustrations and footage/recordings that are available under Creative Commons licences – alternatively to select materials that are not copyrighted or which are made freely available by e.g. the photographer or other copyright holder. Please note that when depicting works of art, two types of copyright apply: the artist's copyright and the photographer's copyright.
Perspective will cover any costs associated with payment of artist's rights, i.e. for reproducing art that is subject to copyright, whereas costs associated with photo rights must always be covered by the author of the article submitted.
The list below provides examples of image banks that allow free download and use of their materials. Information about the Public Domain mark can also be found on The National Gallery's website.
IMAGE BANKS OFFERING FREE DOWNLOADS AND USAGE
Open Collections: An overview of digitalised cultural heritage collections made available for free, unrestricted use.
British Library in Flickr Commons: Search more than 1 million digitised images available for free, unrestricted use (public domain).
Rijksmuseum: Search more than 190,000 digitised images of art available for free, unrestricted use (public domain).
Getty Museum: Search thousands of digitised images of art available for free, unrestricted use (public domain).
NGA Images: Search thousands of digitised images of art from the National Gallery Washington, available for free, unrestricted use (public domain).
Wellcome Images: Search thousands of digitised images from the Wellcome Library, made available for any use, including commercial purposes, as long as the source is credited (Creative Commons Attribution).
Metropolitan Museum: Search thousands of digitised images of art available for free – however, usage is only permitted in research publications via the OASC and IAP Artstor programmes.
Europeana: Search thousands of digitised images from European cultural heritage institutions. By filtering your search 'By copyright' and selecting only images listed under one of the following licences (Public Domain Marked, CCBY, CCBY-SA, CCBY-NC, CC0, Out of copyright – non-commercial re-use) you will find materials that you are free to use in research publications.
Statens Museum for Kunst offers more than 25,000 digitised images of art for free, unrestricted use (public domain).
We also recommend that your search for images in Wikimedia Commons, where all images are available for use under a range of open licences, all of which allow the images to be used in research publications.